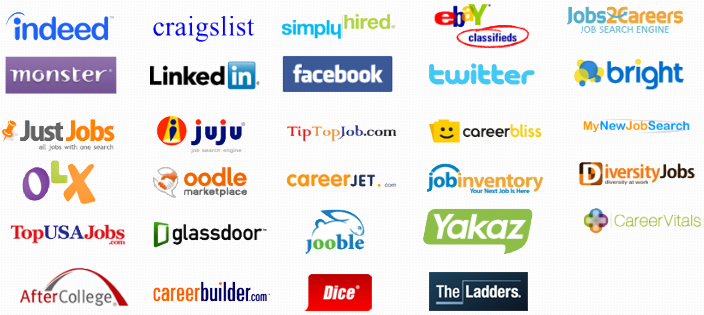 Top 10 Job Search Engines List
By Tonya Wells – With the dizzying amount of job search engines that are available on the Internet today, you could spend weeks, even months, and still not get to all of them. Some job search engines are specific to certain job types or industries, while others are catch-alls. It is difficult to know where to start. Many social media sites are pushing their own job search engines (liked LinkedIn) as new ways to find jobs as well. So, here are my personal favorites – a Top 10 Job Board Search list to help you find a job quickly that meets both your desired field, compensation level, and experience.
LinkedIn – www.linkedin.com – If you are not utilizing the Job Search Engines and Groups in LinkedIn as a way to search for jobs, you are missing out on one of the best ways available to help you find a new job. Over 60% of all new jobs are currently being filled through LinkedIn. If you do not have a profile setup out here, do it today! Most recruiters are now using this site as their primary way of locating new talent. Don't be surprised if you get contacted out of the blue by recruiters on this site to tell you about jobs that might be a good fit for you. I have personally gotten two of my jobs by being contacted by a recruiter from LinkedIn, so I can personally attest to its effectiveness. It is also the main job search engine I currently use as my referral network for talent searches with my Retained Search firm, Ally Resource Group, Inc. as well. (www.allyresourcegroup.com)
Indeed – Indeed Jobs– This is one of the job search engines that is a job opportunity aggregator that pulls in jobs from multiple job search engines all into one place. This should be the second place you check out in any job search after LinkedIn.com. You will find postings from employers and staffing agencies who have paid extra to have their job posting posted exclusively to this site as well.
SimplyHired – www.simplyhired.com – Another job search engines aggregator, this site always has great opportunities posted here. This job search engine may have some overlap with Indeed.com, but it also will have job posts that employers and staffing agencies have posted directly to this website only. So, you may also find some exclusive job postings listed here.
TheLadders – Although a paid subscription is required, the subscription is worth it on this job search engine. These jobs are high quality and high compensation. If you are an experienced candidate, you should definitely check out this site, particularly if you are a higher level Manager, Director, Vice President, Executive Vice President, or CEO, COO, CIO, or CFO. This is one of my personal favorites when I have a job to fill. As a recruiter, you can use it to either find great candidates directly or to source referrals who might know a candidate who is looking for a job like the one you have to fill. You can get to their website via the link included below:

Monster – Access More Career Tools, Advice, and Information. Create a FREE Monster Account Today!
– A longtime favorite of job seekers, this is one of the job search engines that is still very effective at helping job searchers find good jobs. You will find a lot of jobs posted here that you will not find posted anywhere else. One of the companies I used to work at was owned by Monster.com, so I know all the little ins and outs of both finding candidates on monster, posting jobs that get very effective feedback from candidates, as well as special tips and tricks to getting your resume noticed in Monster.com, so be sure to check back here later for an updated post where I share some of Monster.com's inside secrets for both Hiring Managers and Candidates!

Craigslist – www.craigslist.com – This is a little known Classified posting site that a lot of employers and staffing agencies are now using to post jobs for free. So, while it doesn't count as one of the job search engines per se, but you can search for jobs on it via the classified jobs section. You will be directed to your City and State for which you are looking for a job, and can drill down by job category. The job search feature does not support Boolean searches, however, so you will have to tinker with your search criteria more than on some of the other job boards since Smart Searching is not as well developed on this site. It is still a fantastic site to find a job, however, as many smaller companies are using it to save on recruiting costs.
Findtherightjob – www.findtherightjob.com – This is one of the new job search engines that you need to check out. It does have some requirements to enter your information when you first land on the site which are somewhat annoying, particularly when you are visiting the site for a 2nd or 3rd time and have already entered the information once. But, there are some still good jobs listed here, so I would check it out.
Juju – www.juju.com – I like this job search engine because I can search without being forced to enter in any of my personal information. It also contains a wealth of job postings, so do make sure you check out this site.
TopUSAJobs – www.topusajobs.com – This is another one of the job search engines that is a job opportunity aggregator that has some good opportunities listed out here.
CareerBuilder – www.careerbuilder.com – This is a longtime favorite job search engine of job searchers. I don't think as many employers post their jobs to this site as they used to, but there are still quite a few listed out here. CareerBuilder typically does not pull through to the job aggregator sites either, so you will find postings out here that you will not find listed anywhere else.
I hope you find some useful links to some of the best job search engines here, and please comment with your favorite Job Search Engines. I am always interested in hearing about what job candidates are using in their job searches.