By Tonya Wells – In an attempt to get hired, sometimes desperate times call for desperate measures. However, there are some things that even to a recruiter just scream of desperation. And, desperation is a turn-off to everyone, so try not to go overboard in your attempt to get hired.
1) Personal pictures – Pictures in general are still not looked upon favorably to have on a resume. It opens the employer up to discrimination lawsuits if for some reason you are not selected. But, if you feel you absolutely MUST have a picture on your resume or on your LinkedIn profile page (which by the way, you SHOULD DEFINITELY have a picture of yourself on your LinkedIn profile), make sure it is a professional picture or a casual picture of just you – no beer bottle or wine glass in hand, no party pics of you going crazy, and no pictures of you and the kids.
2) Third Person – Don't use third person when describing your objectives, job descriptions, or accomplishments. Reading through a resume that says "George won President's Club three years in a row. George never missed a quota. George was pure awesome sauce." is just downright creepy to read. It's YOUR resume. Use the word "I" as in "I accomplished XYZ."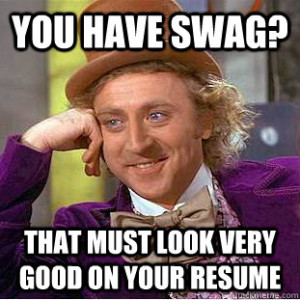 3) Weird Hobbies – If you are the Lore Master of the Lord of the Rings Dumbledore Clan, I don't want to know about it unless you are applying for a game developer or testing position. If your hobby is not relevant to your job to which you're applying, it doesn't belong on your resume.
4) Weird backgrounds, fonts, and colors on your resume – Even if you are applying for a creative field, try to keep your resume relatively neutral looking. If you do need to show your portfolio to the recruiter, create your own blog or portfolio site, and redirect the recruiter to your portfolio there. And before you do, double and triple check that every single page of your site actually works and looks good in ALL browsers.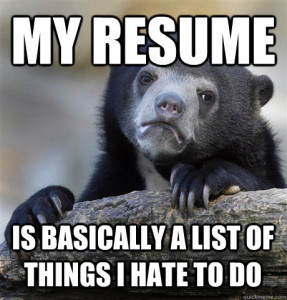 5) Jobs You Had in High School – Unless you earned your first $100K in High School because you are some child prodigy, I do not need to know that your worked at the Taco Shack and the Sno Cone Stand while you were in High School. Leave off the restaurants where you waited tables. If this is your first job, I want to see only relevant prior working experience. If you don't have that, I'd rather see a big, long list of organizations you were a part of and what officer positions you held within that club.
The best thing you can do before you turn in your resume to a recruiter is to have someone give your resume a quick critique to offer you suggestions on how you can improve it.
I provide both resume critiques and complete or partial makeovers on my website at Ally Resource Group, so please contact me if you could use some help with your resume: http://www.allyresourcegroup.com/fix-my-resume.html
Each resume critique is performed by one of our recruiters who has worked with some of the Nation's Top Executive Search Firms. They will apply their years of training and professional experience to produce a 3 page detailed report which will include the following items:
– Exactly what changes we suggest for your resume
– How to improve your response rate
– Specific formatting changes that should be made
– Items to omit totally from your resume
– Proper length of resume for you based on your level of experience
– Items you can add to "better sell yourself"
– and more!
Feel free to contact me directly at careers@allyresourcegroup.com if you are interested in having your resume critiqued or completely made over.
Resume Format Software Package/Applications You Might Want to Try: