By Tonya Wells – BlogAboutJobs.com recently conducted a survey with over 200 recruiters and hiring managers worldwide. We received a lot of feedback, and the results are published here. These recruiters and hiring managers were asked to submit their Top 10 Things That Irritate Them the Most About a Candidate AND their Top 10 Things That Wow Them About a Candidate. The results below are the top 10 things recruiters and hiring managers said irritate them the most. These interview tips will help you do your best during the interview process, so take notes!
1. Candidate "follows- up" every hour. This one was submitted by multiple recruiters who participated in our survey. "Reminds of us of Family Guy when Stewie is calling for his Mum" said the Datrose Recruiting team in Rochester, NY. Recruiter Nina Piccini said it's really irritating when a  candidate calls and leaves a message the first time they call, only to follow-up with a call every hour afterwards, sometimes leaving multiple messages and sometimes just hanging up. Trust us. By the time you've called the third time, we recognize your phone number. At this point, you move from candidate to stalker. If we have an update for you, we will call you back with it. Try to understand that you are not our only candidate, and we are most likely in interviews with other candidates, we might be in a meeting with another client, or perhaps we are out of the office for personal reasons.
2. The personal information such as your email address and phone number on the resume you just sent us is incorrect.
3. Another frustrating one is when a candidate calls doesn't tell you their name, and/or they don't leave their phone number on voice mail so we can call them back.
4. The candidate embellished the truth on his or her application. This happens a lot when candidates use either resume samples, and they do not modify them to reflect their own experience; or, when they use resume services that simply have someone else write their resume for them rather than having them complete a questionnaire in advance where they must state their own experience. And then, there are the candidates that over embellish or exaggerate their skill level or the extent of their experience. My personal favorite exaggeration is the candidates who claim they've been developing in a particular software language for 10 years when that particular language has only been in existence for 5 years. I've also had candidates send me resumes with some certifications listed on it, and they couldn't tell me what the certification acronyms stood for nor what skills the test verified.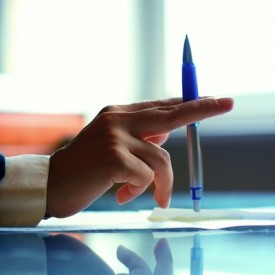 5. One of the recruiters responding from Robert Half International (as well as many others) said the most annoying thing to them is when the candidate goes MIA right in the middle of the hiring process. They don't respond to numerous voice mails or emails to try to schedule an interview for them. What is even more irritating is to have that candidate finally call you back two or three weeks later (after the position has been filled) to let you know they are still interested in the position. If you are ill or going on vacation, you need to let your recruiter know in case you are their top pick for the position. A lot of times (but not always), a company is willing to wait for the perfect candidate if they are sick or already had a vacation planned during the interview cycle.
6. They did not read the job description but applied anyway. If I had a $1 for every time someone who only has experience flipping burgers has applied for an upper level management position for a job in which he or she has no educational requirements met nor do they have any job experience, I would be a rich person right now blogging from a beach somewhere warm. Read the job requirements before you apply for the job!
7. Once our candidate gets narrowed down to being 'the one' our client wants to hire, clients will sometimes request that we conduct drug screens or background checks on the candidate. This is usually because it is an employment requirement for all employees working for that particular company. We've let the candidate know first thing during the interview process that a drug screen and background check is required, and they've said nothing about having concerns about passing them. When the tests are run, the candidate does not pass. This is such a time waster for both the recruiter and the candidate. If you don't think you can pass the checks, please bow out gracefully, make up an excuse for why you are no longer wanting to pursue the position, do something – just don't waste everyone's time who is involved in the interview process!
8. Many of the hiring managers who responded to our survey said the most irritating thing for them is when the candidate leaves a very poor first impression after meeting with them in person. The candidate shows up for an interview looking like they haven't had a haircut all year, or they have not shaved (or at least trimmed up their beard), or they have very bad body odor or offensive breath, or they smell like whatever they had for lunch (usually something fried or with onions in it), or they track mud all over your carpet, and the list goes on and on. They've just left a very poor first impression.
9. We are not fans of ring back tones. This is the 'Please enjoy the ring tone while we try to reach your party.' message you get when you call some people's cell phone. Those are so annoying! We never like the ring tone, and the volume on the music is usually so loud that we have to hold the phone out away from our ear. No ring tones please!
10. Resume is in .txt, pdf, or rtf format. This is another one that was submitted by multiple recruiters. This one is a biggy and requires a little more explanation.
– Sending your recruiter a resume in .pdf format makes it very difficult for us to tweak any grammatical or punctuation errors that we see.
– Another reason is that many companies require that we forward resumes to their hiring managers in Word format.
– Also, as a standard practice, most recruiting firms remove all personal information before submitting it to their clients to help ensure that they are not cut out of the loop during the hiring process. Although this may be irritating to the candidate, please remember that #1) the recruiter is the one helping you get in front of the hiring manager and probably is the one who contacted you about the job to begin with – thus, your resume wouldn't be at the top of the resume stack for the hiring manager if it were not for the recruiter; and #2) try to remember that this is how your recruiter is feeding his/her spouse and children and putting a roof over their head. So, they are just trying to ensure that the hiring manager doesn't cut them out of the loop. If they get cut out of the loop, they don't get paid for finding the person for the hiring manager. Granted, there has to be a certain level of trust between the client and the recruiter, and most of the time this additional step is not necessary. However, there is a not a recruiter in the business who has been working in their profession for more than two or three years who has not had at least one client back door them and hire a candidate that they submitted to them while cutting the recruiter out of the loop. It DOES happen. It has happened to me, more than once. So, recruiters have to remove your personal information before they submit resumes to clients to help reduce the risk of this happening. It's an unfortunate reality since only 1 in about 50 clients will try do this to a recruiting firm, but it IS a reality. Thus, recruiters must protect themselves from that 2% who try to avoid paying for a service that the recruiting firm has provided to them. This is frustrating to the candidate, and as recruiters we all know this; however, as mentioned above, everyone has a job that they are paid to do, and this is how the recruiter earns their living.
– Sending resumes in .txt or .rtf format make the resumes look poorly formatted and difficult to scan. A good recruiter will send this straight back to the candidate and make them redo the resume in Word format, if you even make it past the first scan they make of your resume. Most recruiters will simply trash the resume because it is simply too hard to scan quickly for the information they are seeking for the position they have to fill. And, they will move on to the next resume in the stack.
There were many more interview tips provided to us by both hiring managers and recruiters; however, this Top 10 list contains the interview tips we received the most. All of these are things over which a candidate has control (with the exception of the background and drug check), so try to keep these items in mind when you're in the middle of the interview process.
Looking for a job is very stressful, and as recruiters and hiring managers, we know that many times you are desperate to get back to work, however, it is possible to go overboard with your zeal to get hired and give an employer the wrong idea about your personality. As long as you are conscious of what can irritate your recruiter, you can keep a good working relationship in place, and ensure that your recruiter will do everything possible to help get you hired.